How it Works
Commemorate your achievement with a personalised print in 5 easy steps
1
Pick a Print
Choose your favourite print (or prints)
2
Customise it
Fill your details in the forms on the product page
3
Checkout
Checkout securely using credit / debit card or Paypal
4
Check your Proof
We will send a PDF proof for you to check before printing
5
Sit Back & Relax
Wait for your personalised print to arrive at your door
Testimonials
It came in 2 days after the photo was sent to be verified as proof, such good service and the product itself is great quality! Truly did not expect such a good experience as this.

Elizabeth A.
I love this print. It's a great way to remember a race. It arrived quickly and communication was excellent. Thanks very much @morethanamedal.

Jenny S.
Absolutely delighted with my Berlin marathon print - a great keepsake after finally getting my sub 4!  Pride of place on our stair case and makes me smile every time I walk past as it brings back all the good memories.

Elisa Harris
Great design, as you can see from the website but also great quality paper and printing too.

David c.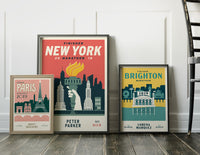 Why Choose MTAM?
Our team brings a wealth of experience in the field of design and illustration and commit to producing products you can be proud to display in your home. We are runners who want to help other runners share the pride in their achievements.